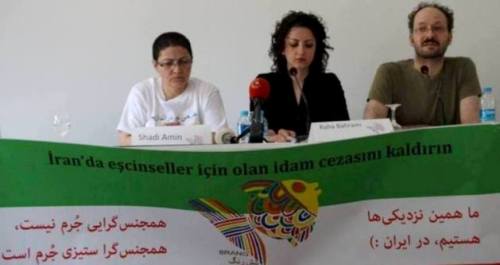 6Rang:  The 6Rang panel on "No to Forced Sex Change" was held in the presence of a large audience composed of Iranian and Turkish homosexuals and transgender individuals on Thursday, 26 June 2014.
Panellists included Shadi Amin, 6 Rang Coordinator, as well as Raha Bahraini, human rights activist, and Roma representing Lambda. Each made a statement marking the launch of a groundbreaking report in English by 6Rang and Justice for Iran (JFI) entitled Pathologizing Identities, Paralyzing Bodies.
Shadi Amin stated: "We want to tell the Islamic Republic, we are next to Iran, we are inside Iran, we are outside of Iran and they must accept us… the Istanbul Pride began in 2003 with 30 participants but by 2013 hundreds and thousands were present. This increase in numbers shows that individuals are expressing their identity and rejecting sexual oppression… the conditions imposed on homosexuals and transgenders in Iran cannot no longer remain as they have."
Raha Bahraini pointed out: "On the one hand, there is the legal system that criminalises the expression of homosexual orientation and transgender identity, and imposes on lesbian, gay and transgender people the unenviable choice of having to undergo sterilisation and genital reassignment surgery in order to obtain legal documents matching their preferred gender or become easy targets for violence and discrimination. On the other hand though, there are the concerns that arise from the failures of sex reassignment surgeons to discuss with those seeking treatment the inherent risks and possible complications of different sex reassignment techniques they use and their terrible complication rates with each of these techniques."
Pathologizing Identities, Paralyzing Bodies includes in-depth interviews with more than 80 lesbian, transgender and gay Iranians. Soheil, a female to-male transsexual, who was forced to undergo sex change operation, recalls the manner in which he was made a target of insult and sexual assault by medical staff:
It was the worst night that I have ever experienced in life… removing my breasts, ovaries and uterus all at once. I was in pain and bleeding. And then came the section's nurse, the one who was responsible for changing the urine bag. He forced the urinal tube inside my vagina and said in a sick voice, "don't you like this? Why did you have an operation? Wasn't it such a waste?" Rage, pain, cruelty, abuse, I experienced them all that night. The next morning, I told the head of the ward about my experience. He asked, "They didn't rape you, did they?" I said: "no, but they did all those other things to me." He said: "go and thank God that you weren't raped."
 Turkey is the first country with significant Muslim population to hold a Pride each year, making it the most important event of its kind in the region. 6Rang Network members are proud to support the launch of their pioneering report in Istanbul and join the 2014 Pride.
All those interested in supporting the plight of lesbian, gay and transgender Iranians who face torture in the name of medical treatment and legal entitlements, are invited to join the Sunday Pride march at Taksim Square in Istanbul. Activists and policymakers are encouraged to familiarize themselves with basic facts of the report in a brief entitled Stop Reparative Therapies & Mandatory Sex Reassignment Surgeries. Bloggers and media are invited to follow us on Twitter or Facebook and help spread the word on the "closest Pride to Iran."