International human rights activists have strongly condemned the execution of an Iranian poet who was a prominent member of a banned cultural organisation run by the country's Arab ethnic minority.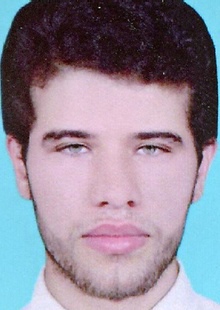 Hashem Shaabani. He was arrested in 2011 with at least four other fellow Arabs and sentenced to death in a trial described as grossly unfair.
Hashem Shaabani, a 32-year-old poet from Iran's Ahwazi Arab community, was executed last month after he appeared on state television and denounced himself – a confession that activists say was made under duress.
Shaabani, who was from Ramshir, also known as Khalafabad, in Iran's south-western province of Khuzestan, was hanged after being found guilty of Moharebeh (war against God) for allegedly having links with a separatist terrorist organisation. He is reported to have been executed along with another cultural activist and colleague, identified as Hadi Rashedi.
According to the Iranian human rights group IHR, their families were informed by prison officials that the man had been put to death in January but the exact place and time of their executions are unknown.
Activists say the two were merely members of a cultural institute called Al-Hiwar (Dialogue), dedicated to the promotion of Arabic literature and art. The institute, initially founded under the reformist mandate of former president Mohammad Khatami, was banned in 2005 after widespread protests in Ahwaz, the capital of the oil-rich Khuzestan province, by the Iranian Arab community.
Iran has stepped up its crackdown against its Arab minority in recent years, arresting activists en masse and handing down heavy sentences often in closed-door courts.
Shaabani was arrested in February 2011, along with at least four other fellow Arabs. The five men were sentenced to death following a trial described as grossly unfair. They were all found guilty of being linked to a terrorist organisation and involvement in shootings that authorities say occurred in and around Ramshir. The fate of the other three men is unclear.
Justice for Iran, an Iranian human rights organisation, which has studied the struggle of Iranian Arabs for cultural identity, said Shaabani was married, had a three-year-old daughter and was studying for a master's degree in politics from Ahwaz University prior to his arrest. In university, he launched a literary journal called Aghlam-Oltalabe (Student's Pen), which published poetry in Arabic. A video posted on YouTube shows him reading poetry in 2002, Justice for Iran said.
Drewery Dyke, Amnesty International's Iran expert, told the Guardian on Thursday: "The execution of Hashem Shaabani can't be separated from his role as an Ahwazi Arab teacher and poet, a figure who had attempted to nurture an independently minded minority culture in harsh circumstances.
"Tragically enough, his secret execution is just one of a long line of judicial killings of members of Iran's Ahwazi Arab minority. But one that came on the heels of President [Hassan] Rouhani's visit to the Ahwazi Arab region, where – ironically – Rouhani decried ethnic discrimination."
Faraz Sanei, of Human Rights Watch, said the execution of Shaabani and Rashedi was "a travesty of justice on multiple grounds".
"The government held these men in pre-trial detention for long periods of time, prevented them from mounting a proper legal defence, subjected them to severe physical and psychological abuse, hanged them in secret, and now refuses to hand over their bodies to their families for proper burial," he told the Guardian.
"Beyond televised confessions that were in all likelihood extracted under torture, the government has provided no convincing proof that these men were anything but ethnic and cultural rights activists who were staunchly critical of the government's policies against Iran's Arab minority. Rashedi and Shaabani's executions are yet another tragic reminder of the brutal security environment that hangs over minority rights activists, and the terrifying pace of executions being carried out by Iran's judiciary."
In confessions broadcast by the state English-lanuage television Press TV in 2010, Shaabani appeared to confess that he had been working for what he called a terrorist organisation.
Press TV has previously aired confessions believed to have been obtained under duress, including in the case of Maziar Bahari, an Iranian journalist and former Newsweek correspondent who was arrested in the aftermath of the 2009 disputed elections in Iran. When Bahari returned to London after freedom, the former Newsweek correspondent complained to Ofcom that the channel had broadcast confessions made under torture.
Ahwazi Arabs in Iran have long complained about state discrimination in areas such as education, employment politics and culture. In recent years, many members of the community have taken to the streets to protest at the discrimination against them. Groups advocating a separate Arab state have also been demonstrating, but not all protesters have been separatists.
Pen International condemned Shaabani's death sentence.
"We condemn this execution as the ultimate violation of the right to life of a fellow poet," said Marian Botsford Fraser, chair of PEN International's Writers in Prison Committee. "In addition, there are serious concerns that Hashem Shaabani was tortured after his arrest to pressure him to make a televised 'confession' which was subsequently shown on national television. His trial was thus grossly unfair."
She added: "While the releases last year of prominent writers such as lawyer Nasrin Sotoudeh and journalist Jila Baniyaghoub were welcome, the authorities must show that they are truly committed to respecting freedom of expression and other fundamental rights."
Iran has been among the countries with the worst records for execution in recent years, putting at least a few hundred prisoners to death each year. Despite Rouhani's moderate mandate, Iran's high rate of executions has continued.
"It is not 'all change' under Rouhani. The authorities in Tehran remain resolute in their efforts to clamp down not only political opponents, but also even those who express the slightest form of cultural independence," Dyke said.
Source:  http://www.theguardian.com/world/2014/feb/13/iran-middleeast